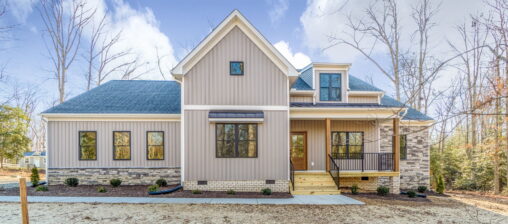 Own Land? Great! When you have your construction-to-perm loan, send us the information. Need a Lender/Loan? We recommend our preferred lender, who has a wide variety of construction financing available. Need Land? If you're working with a realtor, let us know when you find your perfect piece of land. Then, we can meet to walk it. Your realtor will be able to help you through the purchasing process. No Realtor? We can help. What areas are you interested in? What is your budget? We can help you search on MLS. Are you purchasing the land or do you need us to purchase it? (Only considered on a case by case basis).
Before we can continue, there are questions to answer: Are the soils tests done? If not, you will need to have this done during your study period. If we are purchasing the land, we will do this. Public water/sewer? Are there fees? Are they paid? Is your land within our service area? Contact us to see! Are there unique features to consider? Wetland, easements, etc? If in a community, is there an architectural review process that we need to go through?
Go through our Build-On-Your-Land packet, browse our online galleries, and let us know what you would like to see.
Once a plan is identified, we will meet to go over any questions, walk the floorplans you like, and discuss anything you would like to add to the plan.
Once pricing and plans are finalized, a contract will be sent (electronically or in person). A 10% deposit is required at contract.
When the contract is ratified, our designer will set up your design appointment. You will make all of your selections at this meeting. Send us your ideas, Pinterest boards, and wants so we can custom curate your design appointment to your taste!
Once your design selections are made, we work on getting approvals, permits, etc (This part may take a while!). Once we have your permits, your builder will walk the lot with you to determine the placement of your home, clearing, driveway, etc.
If you are handling the construction loan, your lender will need to pay draws to use per the schedule in the contract. Your construction manager will keep you up to date throughout the process. At electrical walk-through, you'll have the opportunity to add electrical options, determine outlet placement, etc.
Once complete, your project manager will familiarize you with all of the systems of your home, and answer any additional questions you may have before closing and moving into your home.
Once settled, enjoy peace of mind knowing you have a warranty, including a 1-year drywall warranty, as well as a 5-year structural warranty.
Frequently Asked Questions
There's truly no place we'd rather build homes than in the Richmond area. That's why we've been headquartered here for over 20 years. This region is known for its mix of big-city convenience and quaint small-town coziness. All of this is a large part of why our new homes and communities are unique. Each location is distinctive and features homes that match. Shurm Homes builds high-quality new homes throughout the Richmond metro area including Hanover, New Kent, Chesterfield, and Henrico Counties.
When you're looking for the perfect place to plant your roots, we believe that a modern, personalized home isn't enough — you deserve a hometown that checks off all the boxes too! With our Build On Your Land program, you enjoy all the benefits of a Shurm home virtually anywhere in these locations below. Be sure to check with us first to verify your location is available to build!
The Meredith plan is perfect for growing families. There's room enough for everyone in the open kitchen and family room, which share a vaulted ceiling. The primary suite and the additional bedrooms are on the other side of the house for privacy. Choose from classic traditional or craftsman elevations. Add a front porch or rear deck to create the living space you've been looking for! There are so many ways to make it your own!
WHERE DO YOU WANT TO LIVE?
Find Your New Home
Join the VIP List
Interested in staying up-to-date with our latest news? Connect with our sales manager today!
---